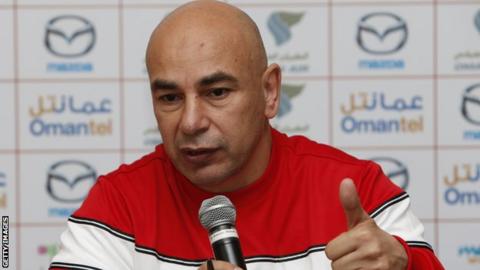 Egypt's all-time leading scorer Hossam Hassan has been spared a possible prison sentence – thanks to his daughter's emotional Facebook message.
Hassan was due to appear in court charged with assaulting a police photographer after a match.
The photographer read the social media post and dropped his case against the former striker, who is now coach of Egyptian side Al-Masry.
"Her words made me sad," Reda Abdelmaged told reporters.
"I saw what Hossam's kid wrote on her Facebook when she said she was sad because she might see her dad in prison," he added.
"I decided to end the case as I love the city of Port Said [where Al Masry is based] and let me tell you that I love Hossam Hassan and his twin Ibrahim as they made the Egyptians happy."
The alleged incident happened as players and officials from Al Masry and Ghazl Al Mahalla clashed after the sides drew 2-2 in a league match on Friday.
Despite the case being dropped, Hassan will stay in custody as the charges must be officially dropped in court.
Al Masry chairman Samir Halabiya said: "The policeman has dropped the case but Hossam will stay in the prison until next Saturday and he will still appear in court and that's when the case will end."
The Egyptian Football Association had suspended Hassan for the next three matches and fined him about US$1,100 (£825).
Al Masry will play Ismaili on Friday in the Egypt Cup with Hassan's twin brother Ibrahim, who is team director, in charge alongside assistant coach Tarek Soliman.
Hassan played for Egypt at the 1990 World Cup and scored 69 goals in 169 games for his country.