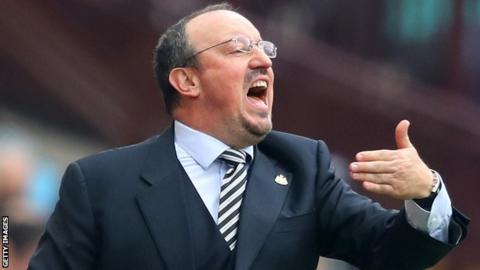 Newcastle manager Rafael Benitez is an "almost perfect fit" for Everton, says former England defender Danny Mills.
Ex-Ajax boss Frank de Boer is the bookmakers' favourite to succeed Roberto Martinez, who was sacked by the Goodison Park club on Thursday.
Benitez and Newcastle have had positive talks since relegation was confirmed, but Mills believes the ex-Liverpool boss could return to Merseyside.
"He lives there. His family is there and he'd be happy going back," he said.
Martinez, 42, promised to deliver Champions League football for Everton when he replaced David Moyes in the summer of 2013 – and he finished fifth in his first campaign in charge with 72 points.
But this season his side have won just five league games at home and are guaranteed to finish with their lowest points tally at Goodison Park since 1981.
Benitez, who took charge at St James' Park with the Magpies second from bottom in March, has a break clause in his contract meaning he could walk away from the club if he wished following their demotion to the Championship.
The case for Benitez
Benitez started the season with Spanish giants Real Madrid but faces the prospect of the second tier of English football if he remains at Newcastle next season.
The 56-year-old led Everton's city rivals Liverpool to a Champions League win in 2005 and guided Chelsea to a Europa League success in 2013.
Benitez's family have remained in the north west of England following his six-year spell at Anfield.
"Rafa Benitez goes to Everton, Roberto Martinez goes to Newcastle. That's not beyond the realms of possibility," former Leeds United and Manchester City defender Mills told BBC Radio 5 live.
"He's got experience, I can't see him staying at Newcastle," said Mills, who added that the Spaniard's Liverpool history "doesn't matter".
But former Tottenham and Newcastle midfielder Jermaine Jenas disagreed, arguing that Everton fans want to see attacking football.
"With Benitez, I can feel them going too defensive and they wouldn't be happy with that," he added.
The Newcastle Fans' Forum issued a direct plea to Benitez on Thursday, asking him to stay on Tyneside.
In a statement, it said: "Whilst we fully accept the short-term prospect of life in the Championship may not be as appealing as other offers, we can certainly promise you the potential rewards of the longer term would exceed any position that you consider."
The forum members urged the club to use "every possible resource" to try to retain Benitez, citing his "ability to connect with the fans".
The case for De Boer
Former Ajax coach De Boer, who left the Dutch club on Thursday, has been linked with the Everton job.
He led Ajax to four straight league titles between 2011 and 2014, but missed out to PSV on the final day this season. His agent Guido Albers said De Boer would be "interested", while his brother, Ronald, said he "was the right man for the job".
Michael Ball played alongside defender De Boer at Rangers in 2004, but the 112-cap Netherlands international spent the majority of his playing career with Ajax and Barcelona.
Ball, who made more than 100 appearances for Everton, believes the Dutchman would be "refreshing" for the Toffees.
"He's defensive-minded, he was a defensive player and a defensive coach," said Ball.
"He likes to bring a lot of youth into his teams and with the Everton squad being so young it could only be a positive for him.
"I know he's unproven in England – that's the only negative. I think De Boer would be refreshing for the Premier League and refreshing for Everton."
The other contenders
Manuel Pellegrini will leave Manchester City at the end of the season, Mark Hughes has impressed at Stoke City and Brendan Rodgers remains out of a job since being sacked by Liverpool in October.
Rodgers' last game in charge of the Reds was a 1-1 draw at Goodison Park – and Jenas says the Northern Irishman's Anfield connection would not go down well with Everton fans.
He added: "I was thinking maybe Brendan Rodgers but you've got the Liverpool issue there as well. Maybe Tim Sherwood?"
Former Wales forward Hughes had a spell at Everton in 2000 and has spent the majority of his managerial career in the Premier League with Manchester City and Blackburn Rovers before his move to the Potters.
Asked about Hughes' future, Stoke goalkeeper Jack Butland told BBC Radio 5 live: "We're confident he will stay, we've got a good thing going on despite the tough end to the season – and the manager's played a massive part in it."
Ball added: "Everyone knows what you're going to get with Hughes. Pellegrini is a great manager but similar to Roberto with his style of play."