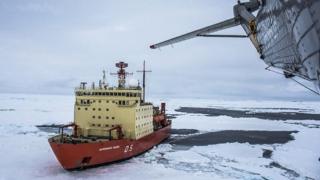 The Argentine navy has rescued four US scientists and a contractor from an Antarctic camp after the US icebreaker due to pick them up could not reach them because of thick sea-ice.
The five were carrying out research on Joinville Island off the north-eastern tip of the Antarctic Peninsula.
All five are in good health after being airlifted by helicopter onto the Argentine icebreaker Almirante Irízar.
Rescuing the team and 400kg (880lb) of equipment took two-and-a-half hours.
The US Antarctic Programme had requested help from the Argentine navy after its research vessel Laurence M Gould encountered thick sea-ice 13km (8 miles) off Joinville Island.
The ARA Almirante Irízar was at Carlini Base, a research station on King George Island, when it received the request, the Argentine Foreign Ministry said.
It then made its way to Joinville through "ice of considerable thickness".
You might also like:
The Argentine navy published a video of the helicopter rescue on its Twitter account.
Argentine officials said that the US team would be transferred to the Laurence M Gould as soon as weather conditions allowed.